In honor of Mental Health Awareness Week, I'm speaking out about my disease and how it has affected me and my family.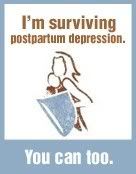 I had no history of depression in my life (I'm adopted, so I don't know about my birth parents' medical history), and most people would have called me outgoing, extremely cheerful, and anything *except* depressed.  But about 5 months after Daughter Person was born, I was diagnosed with post-partum depression – a "major depressive disorder".  Looking back on my pregnancy, it was very likely that I had antenatal depression as well, although never diagnosed.
My depression manifested itself as extreme anger and irritability. I even punched a huge set of cracks in my windshield once (Dad saw me do it).  Anger is not the most common manifestation (although it's a known manifestation), and probably why it took us so long to realize that I was dealing with depression and not just the changes of becoming a new mother.  I went through the typical screenings, both at my midwives and Daughter Person's pediatrician (who also happens to be my PCP), but I apparently had it together enough to "fake" the doctors.
It wasn't until I reached a point in my birth control pill cycle where I was taking the sugar pills when Dad and I realized that I became a real Bitch (with a capital B) that week.  I was mostly fine while I was taking the active hormone pills, or at least better able to control myself.  At that point, we knew it was a chemical/hormonal change, and I finally got into see a psychiatrist.
The first drug he put me on was an SSRI at the lowest possible dose.  After one pill, I knew that I'm one of the 5% of adults who can't take SSRIs because they make things worse.  And I mean really worse – I went from mostly functioning to not functioning at all.  The next day, I was on a different drug (an anti-anxiety drug of all things, but with some benefits to depression).  At the lowest possible dose, I was a completely different person.  Not quite my old self, but pretty close, and except for that pesky one week of sugar pills, I have zero symptoms.  After one and a half years on the drugs and therapy sessions, we tried to wean me off, and that didn't work so well.  I really don't like depending on a drug for well-being, but I also realize that I'm likely to be taking these meds for the rest of my life.
I felt not good enough to be a mother, and not trying hard enough because I didn't like being a mother, in fact, I hated it and I wanted to give Daughter Person back.  I seriously considered suicide and divorcing Dad and leaving him with Daughter Person because of my disease.  He stuck by me through it all, even when he didn't understand what I felt, he took up taking care of himself, me, a newborn, and everything else around the house while I was going through the worst parts.  I am lucky.
Research has shown that depressed mothers affect the development of their children, and honestly, I'm scared that I've "done something" to Daughter Person because it took so long for me to reach out for help.  And it's *hard* to reach out for help, especially if you're like me and don't want to accept help from anyone for any reason.  It's especially hard to reach out for help with a mental illness which is stigmatized in current media.  I don't know if I've hurt her, but I know that I'm on my way to recovery and try my best to keep my disease from affecting her youth.  I'll have to tell her about it when she's older, as she now has a family history of PPD, but I hope that by teaching her about it ahead of time, she won't wait as long as I did to reach out for help if she needs it.